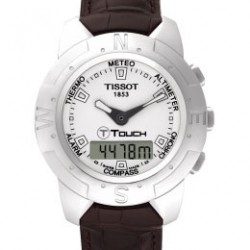 Despite the economic crisis and all the naysayers who believe that luxury products are on the way out, Tissot Watches is one company that continues to innovate. The company has been very actively pursuing the Nascar Audience with its Pit Precision Award, but their most popular consumer watch is the T-Touch Platinum.
This exciting new timepiece brings together all the capabilities consumers have come to expect from their other "touch-sensitive" devices, like iPods and cell phones. But there are some other unique characteristics that make these watches different from other Tissot watches.
First of all, the case is made from precious Platinum 950, and the crown is made from a tactile sapphire crystal. By touching the crystal, wearers can use the watch's "thermo mode" to get the exact outdoor temperature in either Fahrenheit or Celsius. It also includes a barometer function which allows the user to become aware of any major changes in atmospheric pressure. These extremely useful functions have made Tissot Watches even more marketable, especially to men who love "gadgets".
Tissot Watches will be introducing more watches with a touch-screen, and even greater functionality in future collections. The new T-Touch Platinum has the beauty, functionality and gadgetry to make it a top seller for the company.